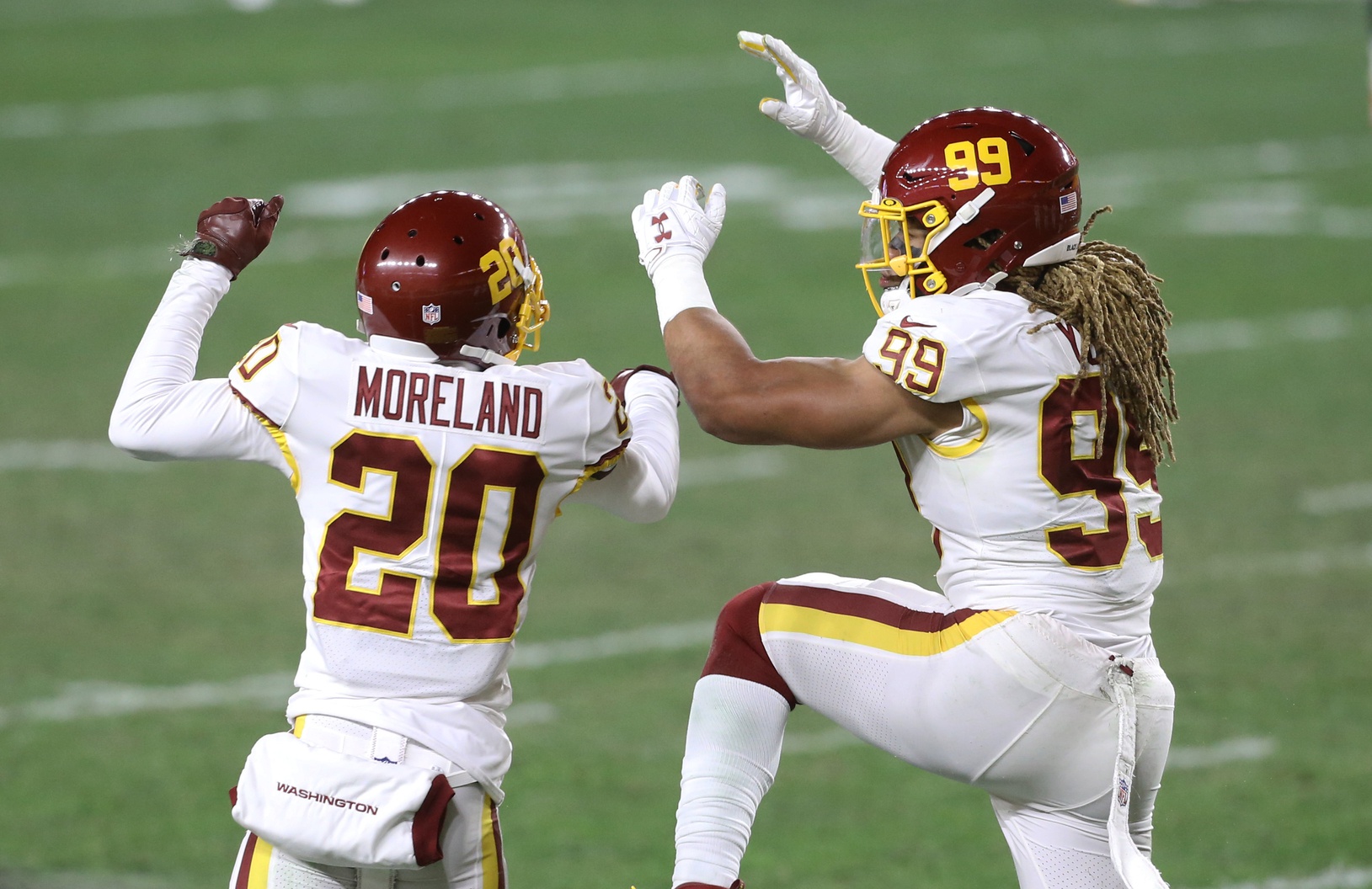 Welcome to another edition of Robservations, where I have officially become a Ron Rivera fanatic. Seriously, the game was on Monday and I'm still jacked up about what this team accomplished. The thing is, I absolutely loathe the Pittsburgh Steelers, I always have, but they are pretty much always great. This year is no different, and as a result they generally always outplay us, but as Jonathan Frakes always says, not this time.
Seriously, the last time we beat them was in 1991, which puts me at -6 years of age. I've never seen Washington beat this team except in one preseason game, and we somehow did it this year. This sub-.500 team buried in the worst division in football that's got an entirely new coaching staff with a third-string quarterback at the helm actually beat the last undefeated team in football. I mean, who could have possibly imagined that? Not only that, but we did it in primetime (If you consider 5:00 p.m. on a Monday primetime) at Heinz Field. 
These last two games have pretty much been a dream for me. We managed to beat two teams I absolutely hate in convincing fashion on national television. I've been back and forth on the prospects of winning this division, but fuck it, let's go out and win this sadsack division. The Giants have the tiebreaker over us, but we've still got four games left to play this season. A lot can happen in those four weeks, but I am fully committed to this regime and their hopes at a playoff berth.
This makes for a good transition to the first topic today. There's almost too much to cover for a game like this.
If you haven't already, it's time to buy into the RivERA
I was a huge fan of hiring Ron Rivera initially, but even I had some questions about his decision-making during his first season as the undisputed leader of this franchise. The offseason especially was unique. He didn't make a major splash move nor did he necessarily improve every single gaping hole on this team, but he did make a handful of moves that I really liked (Fuller and McKissic come to mind). There were also some moves that I was really not onboard with, particularly the decision to make Logan Thomas TE1. I was pretty set on getting a starter like Eric Ebron or Austin Hooper in free agency, but thank god I don't have a front office job because Thomas has been way better than either of those two this season.
Thomas has been a legitimate steal this season, and he's only gotten better since becoming Alex Smith's go-to safety valve. What an absolutely genius pickup that I did not see turning out as well as it did. His performance in Pittsburgh was a career best, hauling in nine catches for 99 yards and the game-tying touchdown. He made tons of impact plays, but nothing beats these two plays:
Thomas hasn't been the only diamond in the rough. McKissic has far outweighed expectations, Wes Schweitzer and Cornelius Lucas have become reliable starters on the line and Rivera's first draft class already looks like a solid group of big-time contributors. He's taken a team that's probably around 70% of what Jay Gruden and Bruce Allen brought in and essentially turned them into a competitive football team. This same team last season would never beat a team like Pittsburgh on the road on a Monday night. It just wouldn't happen. I've said it before, but this team has clearly bought into what this coaching staff is selling. I've never seen a Washington season that's more inspiring than dramatic, it just never happens. This was a huge statement win for Rivera and his staff and maybe the biggest win this franchise has had since 2015. Let's bask in the glory for as long as possible. 
Alex Smith's story continues to inspire
This is a scheduled section, but every week just seems to add more and more to this already incredible saga. Smith was going to be Comeback Player of the Year even if he only played in the Rams game, but a game like this should go down as one of the biggest achievements in his career.
The thing is, I was almost in favor of benching him at halftime this week. He was taking a beating and I honestly felt like he was seeing ghosts on that last drive before halftime, but the offense came out significantly more motivated in the second half, Smith included. With the game on the line, the typically conservative Smith actually looked more aggressive pushing the ball down the field and it paid off huge for this team.
The play that still brings a tear to my eye was the third-and-4 deep ball with the game tied and Washington just one big play away from field goal range. First off, I love this call by Scott Turner. It's aggressive, it's well-executed and it's the type of play you need to make to beat an 11-0 team that has won games in crunchtime. Cam Sims, who has really come a long way since we picked him up as an undrafted free agent just three seasons ago, made a fantastic grab in tight coverage, but man, what an absolute dime from Smith to give him a chance. There are so many moments in this game that you can point to that were crucial to this upset, but I think this one takes the cake for me. It's such a bold call, and it paid off huge.
Also, can we talk about the bloody leg that took Twitter by storm?
Good god that's a lot of blood. If that was the leg that needed surgery I would've absolutely flipped my shit if he stayed in the game. It just goes to show how tough Alex Smith really is though. This man is an absolute warrior.
The defensive line has gone mainstream
Yeah, we've known for most of the season how good this defense as a whole could be when they played at their best (which hasn't necessarily been every week), but I think non-Washington fans are really starting to wake up. Particularly, I think they're starting to realize how everything great about this defense starts up at the front with the defensive line. The line has dominated the last three games, with Chase Young and Montez Sweat both getting their time in the spotlight with awe-inspiring plays of absurd athleticism and physical dominance that this team hasn't seen since the days of Orakpo-Kerrigan.
No one on the line had a sack on Big Ben this week, but they were constantly blowing up his pocket and forcing him to focus on the short game rather than the deep ball. Even without a sack, these two are arguably at the center of the two biggest plays of the game on the defensive side, the first being Young's fourth-down stop at the goal line.
Pittsburgh had a jaw-dropping five shots to score at the goal line and this entire defensive line was at the center of their failure. Look at how quick Young gets into the backfield to make the stop there. This kid is just special, plain and simple, and his ceiling is somehow even higher than this.
The second play is of course Jon Bostic's game-sealing interception late in the fourth quarter to squash Pittsburgh's hopes of at least tying the game up before regulation. Bostic makes a great play tracking the ball in the air, but it's Sweat who should be getting most of the credit with his tip on Ben Roethlisberger's throw. Sweat batted down three of Big Ben's passes on Monday, yet he just kept throwing on that side until it finally came to bite him. I just rewatched it for this blog and I still can't believe Sweat timed his jump as well as he did. 
This whole defensive line deserves the praise it's been getting this week. It's an elite group, and people are finally starting to realize it. Our success on defense starts and stops with how well this unit plays, and right now, they're the driving force to this defense holding their last three opponents to 20 points or less. 
The magic of the white-on-white: what's changed since 2009 for this organization?
I usually save this space for a non-Washington Football topic, but I'm so jacked up about how well this team is playing that I thought it'd be appropriate to take a walk down the saddest, sketchiest part of Memory Lane and revisit the state of this team in the year 2009. That was the last time we wore the white-on-white jerseys, something this fanbase has been begging for the team to bring back ever since. I still don't know why it took this long to get them back, but man there's clearly something special about them after a game like this. 
The 2009-2010 season was not a good one for this team (go figure). In fact at the time, it was probably the worst season I had endured as a fan. This was the second year of the Jim Zorn era (feel free to use your local bathroom to gag, don't worry I did too) that started with an 8-8 2008-09 season in which the Redskins lost six of their last eight games. His second season was far worse, with the team devastated by injuries to key cogs like Clinton Portis, Chris Cooley, Ladell Betts, Chris Samuels, Randy Thomas and yes, Colt Brennan. If you were a fan of this team during that era, you're surely aware that every single name on that list was a vital member of this team when they were good. So imagine that team without them. Yeah, they were dreadful. 
This team would finish 4-12 with Jason Campbell wrapping up his Redskins career in a fittingly mediocre fashion, while the team was still early in what would end up being the infamous Albert Haynesworth debacle that would really gear up when Zorn was ultimately replaced by Mike Shanahan the next season.
My point in bringing this up is, a lot has happened to this organization since they last wore those jerseys. Sure, the jerseys are irrelevant to how the team performed, but we have to remember the absolute hellish seasons we've been through as a fanbase. This era feels different. We're only 5-7 right now, but this is a competitive team that is overachieving the initial offseason expectations in a major way. Regardless of how this season ends, NFC East champions or not, this season is a huge step forward for this organization. This isn't the Jim Zorn-led 2009 Redskins, this is the 2020 Ron Rivera-led Washington Football Team, and dammit if they don't give me legitimate hope for the first time in a long time. 
That wraps up this week's edition of Robservations. This is perhaps the most positive blog I've written this season even though there were some clear negatives in this game (Fuller's whiff on the James Washington, the numerous head-scratching flags, the dropped passes, etc.) but with a win this big, it's hard not to look at the whole picture and just not be proud. They played a far better team on paper and basically forced them to play a sloppy, low-scoring game.
The race for the NFC East crown is tightening up with Washington and New York both seemingly catching fire late in the season so it should be a close finish for that top spot. The Giants have a tough matchup with the exciting yet inconsistent Arizona Cardinals that are still fighting for a playoff spot while Washington takes on a banged up 49ers team that is still in the hunt, but is quickly losing ground. I'll see you all next week to talk about that matchup and more.