Fourth Round (142nd overall): WR Antonio Gandy-Golden, Liberty
Player breakdown: Antonio Gandy-Golden was a highly productive wide receiver in his four seasons at Liberty, with his last two coming at the FBS level. In his last two seasons, Gandy-Golden recorded 150 receptions for 2,433 yards and 20 touchdowns. Though not a blazing fast runner, Gandy-Golden had a knack for breaking away once he got into open field, which happened quite frequently.
Standing at six-foot-four, Gandy-Golden was a dominant force against generally smaller cornerbacks, and was able to high-point the ball well thanks to his impressive catch radius. He's also a physical runner who fights for yardage and almost always falls forward despite being a pretty lanky receiver.
He's also proven to be quite the interesting guy off-the-field.
How he fits: Getting a tall receiver with down-the-field explosion was, to me, one of the most crucial needs going into the draft and I think the team hit a home run going for Gandy-Golden on Day 3. I'd say his value came around the late third, early fourth round so the value felt appropriate at this point, but he honestly has the skillset and resume to come in and challenge for the WR2 spot right away. Obviously Terry McLaurin and Steven Sims are pretty much locks at their positions as WR1 and WR3, but that No. 2 spot on the outside is pretty much fair game. Gandy-Golden will have to beat out second-year guy Kelvin Harmon in order to get that spot, but it's no guarantee that Harmon fits what Scott Turner is trying to do.
I like Harmon, and I thought he had some flashes throughout his rookie season that make me believe he'll be a reliable possession receiver, but I think Gandy-Golden might just be a better threat in general. It's a good problem to have for sure, but it's something worth keeping an eye out on. Regardless, I expect Gandy-Golden will see the field pretty early on since he poses a threat in the red zone thanks to his superior size and ability on 50/50 balls.
I love this pick at this point in the draft; Haskins gets another dangerous weapon and the team fills a pretty big need in the process.
Grade: A
Fifth Round (156th overall): OL Keith Ismael, San Diego State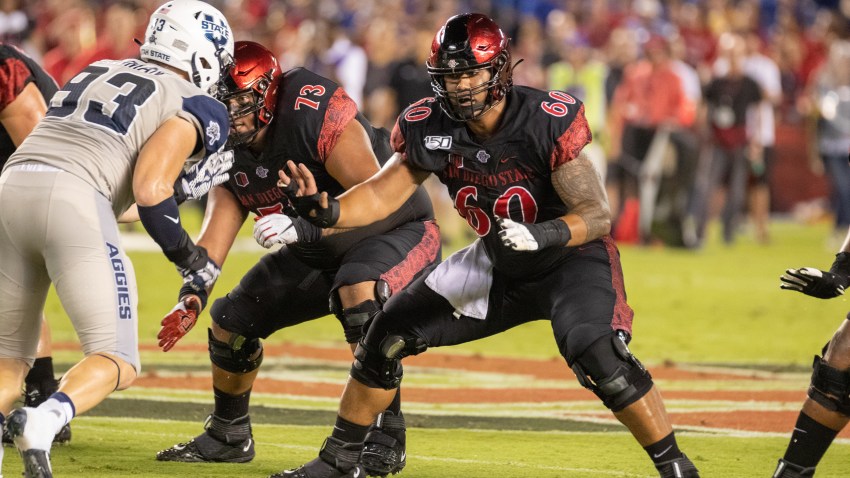 Player breakdown: Considered a "steady Eddie" by Daniel Jeremiah, Keith Ismael was the definition of versatility while at San Diego State, where he started 38 games in the last three seasons at both guard positions and at center. Ismael was also named first-team All-Mountain West in the past two season. Standing at six-foot-three and 309 pounds, Ismael is a bit undersized, but he makes up for it with quick feet and good athleticism.
He hangs in there against powerful rushers, but he's at his best moving around as a pull-blocker.
How he fits: One of the major areas of emphasis this offseason from the new management has been depth, and this pick to me fits that bill as well. The Skins have signed a number of players across the offensive line that really serve as just depth more than guys vying for a starting job. While Ismael looks he has some promising upside, the move feels a lot more like a depth move considering the options we already have at guard and center. Brandon Scherff has the right side locked up, and while that left side is open, I think Wes Martin definitely has the upper leg on Ismael or newly-acquired Wes Schweitzer. Chase Roullier is coming off a nice season at center as well, so I don't see him losing his job in camp either.
I've said this before though, depth matters (especially with this team), so I really don't see anything wrong with this pickup. I would have liked a tight end around this range, but prioritizing the offensive line is a wise move in its own right so it's hard to bash the team too hard on a fifth round pick.
Grade: B-
Fifth Round (162nd overall): LB/S Khaleke Hudson, Michigan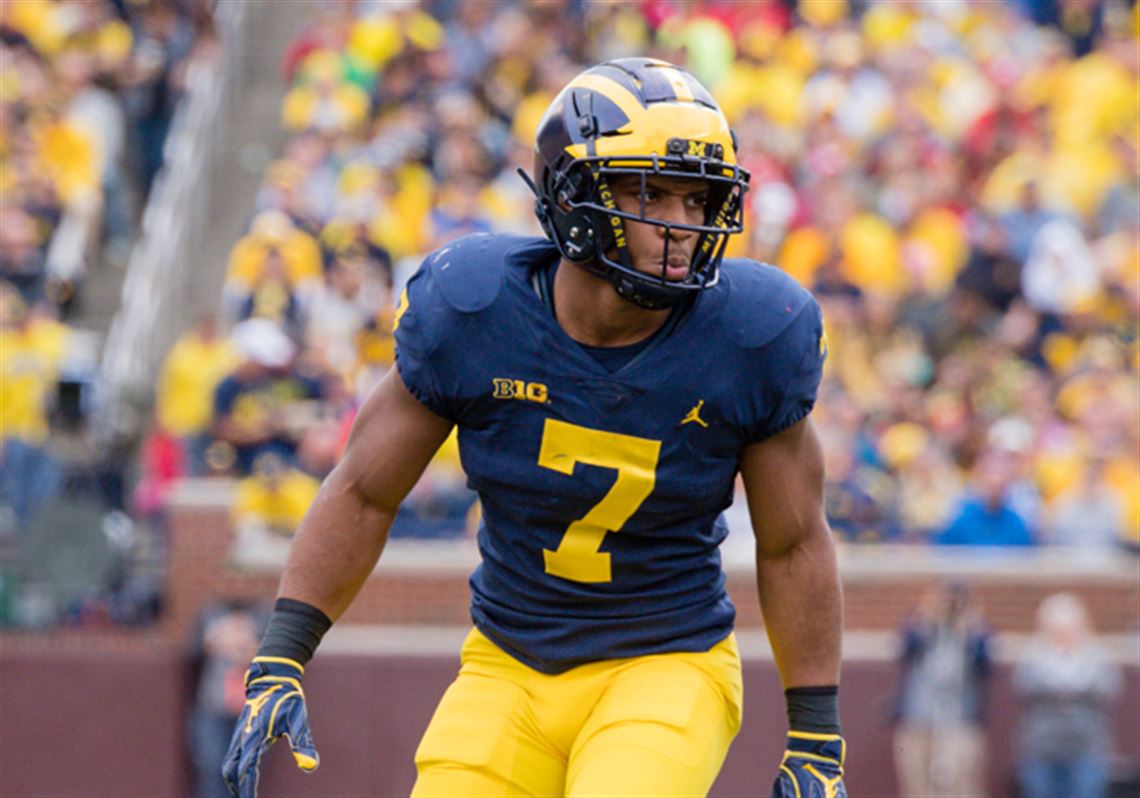 Player breakdown: Like former first round pick Jabrill Peppers did before him, Khaleke Hudson occupied the Viper role while at Michigan, a safety/linebacker hybrid position that utilizes a player with safety speed but a linebacker build. Hudson flourished in that role, accumulating 225 total tackles, 10 sacks, 23 tackles for loss and two interceptions in his four-year career. His best season came in his sophomore year, where he recorded both of those interceptions, 16 tackles for loss and seven sacks. He was also fantastic on special teams, blocking five punts in his collegiate career. He leaves Michigan as a three-time All-Big Ten honoree, with his senior season production earning him second-team All-Big Ten honors.
Hudson projects as a big of a tweener prospect coming into the NFL. Despite a solid 4.56 40-time, he lacks the speed and range needed to be an NFL safety, and he's a bit undersized to be an every down OLB. You can't deny his toughness though, nor his special teams prowess.
How he fits: When it comes to Day 3 picks, I generally look less for picks that fill team needs and more for intriguing prospects with unique skillsets that can be developed. To me, Hudson is one of those guys. I don't think he projects well as a safety, but I can definitely see him working well as a linebacker because of his toughness and athleticism. He's a really high-effort defender and I think that's why Rivera had him so high on the board despite his negatives. Was it considered a reach? Yes, but by Day 3, no draft analyst's draft board is ever really going to be indicative of what teams think of certain players.
He sort of reminds me when the Redskins drafted Josh Harvey-Clemons in the seventh round in 2017, who has stuck around for three seasons. I love Hudson's special teams ability, and that's where I see him really contributing this season. Five blocked punts in four years is not something every player has on their resume, that is really impressive. He'll be a guy I'll definitely be watching in training camp to see where he lines up. I think the preseason will be a huge test for him to show that his versatility is worth investing in, but if he really wants to make the team Year 1, special teams is where he's going to have to really contribute.
Grade: B
Seventh Round (216th overall): S Kamren Curl, Arkansas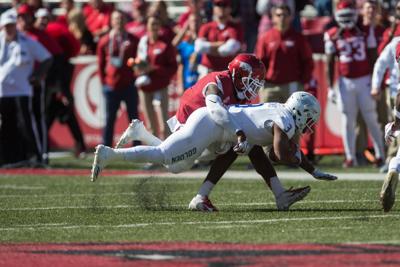 Player breakdown: Kamren Curl was a three-year starter with the Razorbacks, with the last two being at strong safety. He improved every season as a starter, and his junior year was easily his best, finishing with 76 tackles, four tackles for loss, two interceptions and a forced fumble which he also returned for a touchdown.
Curl does just about everything asked of him as a strong safety, with good vision to read the quarterback's eyes, good run support and a polished backpedaling ability.
How he fits: Across the board, Curl appears to be a pretty serviceable safety both in coverage and against the run, but I don't see anything that necessarily sticks out about his play style. I like his physicality against the run, but at just six-foot-one and 206 pounds, he can only do so much as a tackler. He's a bit slow in coverage as well, but I think he held his own in his three years as a starter. Really I just don't see a huge ceiling with him beyond being a backup safety with special teams value. Nothing wrong with that in the backend of the draft, but I would hope to see them go for someone with a little more potential upside like they did with Hudson the pick before.
Grade: C
Seventh Round (229th overall): DE James Smith-Williams, NC State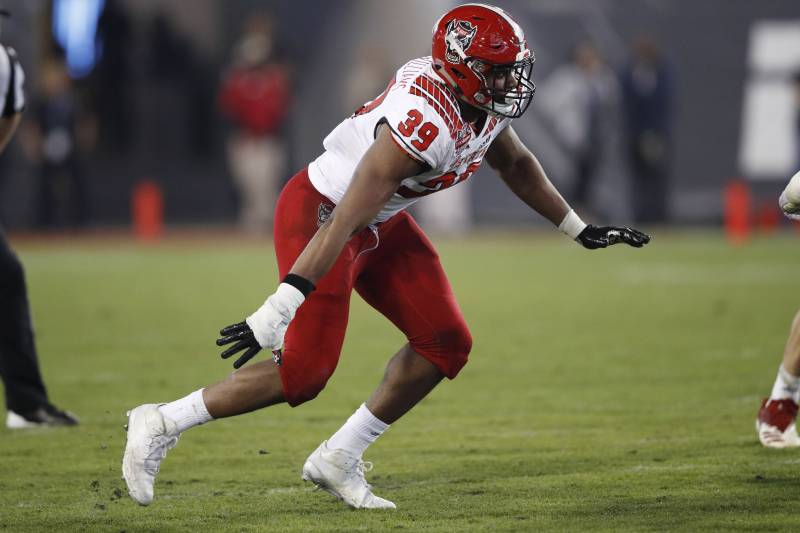 Player breakdown: James Smith-Williams may have had a difficult time staying on the field due to some serious injuries over the course of his collegiate career, but he sure found success off it, earning two paid IBM internships working on robotic animation. On the field, Smith-Williams constantly struggled with injuries beginning in his freshman year, forcing him to redshirt after just four games. The next season, he played eight games before getting hit with another season-ending injury. He managed to stay healthy for the next two seasons after, with his junior year being his breakout season with six sacks and nine tackles for loss. Though he suffered through some more injury concerns this past season, he still started in seven games.
Smith-Williams may not have a ton of tape to go off of, but from what he does have, he looks like a physically-imposing beast of a man who uses that power to generate push on the line. He tested well at the NFL Combine, running a 4.6 40-yard dash and recording 28 reps on the bench press. He's clearly got the physical skill to earn a chance at playing time, he just needs to prove he can keep healthy.
How he fits: This largely seems like Rivera taking a flyer on a player with good physical upside, but little on-field production. Even in his seven games this season, Smith-Williams recorded just one sack. His junior tape shows some promise, but I'm not sure it'll be enough for me to think that he won't be a massive underdog to make the opening day roster, especially at a position that is so stacked for this team. I'd imagine he's a good practice squad candidate this year, but he'll need a really good camp to earn even that.
Grade: C-