While I'm still hard at work on my next ranking of the ten best tight ends in the 2020 NFL Draft, I thought it'd be the right time to breakdown my thoughts on what the Redskins should do during the three-day event.
What comes with any team picking in the top five of the draft is the most intense form of smokescreens you'll find. That's no different for the Redskins, who have been the topic of discussion for months by T.V. pundits and bloggers like myself, particularly in regards to Alabama quarterback Tua Tagovailoa, who many see as an upgrade over 2019 first-round pick Dwayne Haskins. We've also seen a lot of discussion over the trade value the pick holds because of Tagovailoa as well as Chase Young, who has been regarded as the best overall player in the draft.
While I see the Tua talk as a 100% unadulterated smokescreen of the highest order (as should you), the trade route holds some value. A team like Miami would perhaps be willing to give up two or three of their first and second round picks for a chance at the Alabama standout. It's an intriguing situation, but ultimately I think Washington stands pat on selecting Chase Young at No. 2.
That's not the only trade talk regarding Washington. The Trent Williams saga is still very much ongoing, and though the team is firm on its desire for a second-round selection for the 31-year-old left tackle, I imagine they'll have to eventually bite the bullet and settle for a bit less in order to ship him out. That discussion is for another day however.
Today, we'll be looking at my Redskins-only mock draft I made and discussing what I would do if I were in charge of this draft. Thanks to thedraftnetwork.com, I was able to simulate the draft to get a good idea of who might be available for Washington's Day 3 picks (for the record, I would have killed for this kind of technology when I was a kid). So, let's start with the prized possession that is the second overall pick.
First Round (2nd overall): EDGE Chase Young, Ohio State
At this point, it's pretty much common knowledge just how special an athlete Chase Young is. I could sit here and explain everything that makes him a can't-miss prospect, but honestly you've definitely heard everything there is to know about him as a prospect. What more can I add? The guy is simply a monster on the edge in just about every way possible. He's got the speed, the physicality, the discipline and the ceiling you want out of a first-round edge rusher. I have a hard time finding anything wrong with him as a prospect.
I think Brett Kollman describes Young's skillset pretty well, and I find myself agreeing with him on a lot of points. Compared to previous prestige prospects at the position like Myles Garrett, Jadeveon Clowney, Khalil Mack and the Bosa brothers, I legitimately think Young is the best of the bunch. And with an already strong front-seven featuring studs like Jon Allen, Da'Ron Payne, Matt Ioannidis and Montez Sweat, Young will be put into a situation where he can thrive immediately without the fear of constant double-teams and extra assignments.
I think Ron Rivera wants to make a statement with this pick. He could trade back and look to address more needs across the board, but I don't think he does, I think he'll go with the best player in the draft, and improve an area of the team that's already a strength. I imagine Jack Del Rio would have an absolute field day with this group, and if we're going off how Nick Bosa turned San Francisco's front-seven from good to great last season, I think this could be a game-changing move for an organization that is incredibly desperate for one.
Third Round (66th overall): TE Adam Trautman, Dayton
To be honest, I was a little surprised Trautman was still there at No. 66, and while guys like Michael Pittman Jr. and Chase Claypool were still available, I felt Trautman still presented solid value and fulfilled a much bigger need on offense.
I think Trautman will probably go earlier in the draft because of this year's fairly weak tight end class, but if he's there at No. 66, this is a very nice steal for Washington.
Trautman is still very much a work-in-progress as both a blocker and a receiver, but despite that, he still shows a ton of potential on both fronts. Standing at 6'5″, Trautman is a massive target with pretty nifty athleticism reminiscent of Tyler Eifert. His route-tree is still pretty limited and he still suffers from some rough drops, but for what he is currently, there's a lot to work with, especially as a red zone/deep target
The former quarterback is also a pretty decent blocker, especially in the run game, but he tends to get a little flat-footed too often which will not fly at the next level. Like with his receiving though, he's not bad in the area per se, just not completely developed.
Since the Redskins currently have what one might call a ragtag group of tight ends currently on the roster, I'd imagine Trautman would be getting a lot of time on the field early in his career, so it'd be interesting to see if that ends up helping him develop in the long run compared to being predominately a depth player early on. It'd be a story worth keeping an eye on, but I think Trautman presents great value at this point in the draft and fills a hole on offense that definitely needs to be addressed in this draft.
Fourth round (108th overall): WR Van Jefferson, Florida
I was hoping the Redskins would find a solid veteran receiving option in free agency to compliment the young core consisting of Terry McLaurin, Steven Sims and Kelvin Harmon, but besides signing Cody Latimer, they really didn't do that. That's not really a bad thing though. After all, we are looking at one of the most stacked wide receiver classes I've probably ever seen, so really they should be able to find a strong option in the third or fourth round.
Since I decided tight end was the more important position to address in the third round, the fourth round was dedicated to the wide receiver. Funny enough, this class is so good that seeing a guy like Van Jefferson available blows my mind. Jefferson has some serious upside and is really fantastic value in the fourth round.
The son of 13-year NFL vet Shawn Jefferson, Van Jefferson looks like a pretty polished product already and has showcased some of the smoothest route-running I've seen in this class. Look at this play route here against LSU this season (one of the best games of his career):
Pretty smooth, right? How about another?
Despite a lack of top-end speed, his route-running more than makes up for it, and shows me that he has the skill to create separation without relying on pure speed. He does need to bulk up a bit, he gets bullied by more physical cornerbacks, but he's got ideal length and consistent hands that make this a really solid Day 3 pickup.
I think Jefferson looks more like a slot receiver based on his size, but also he could probably work well on the outside as well. I'd be interested to see how offensive coordinator Scott Turner would use him, but I think he'd be at his best splitting time with Sims in the slot. Both have very different skillsets, but provide Dwayne Haskins with some legitimate playmaking ability. Not to toot my own horn too much, but I'm pretty happy with how this mock has shaped out so far.
Fourth round (142nd overall): S Kenny Robinson, West Virginia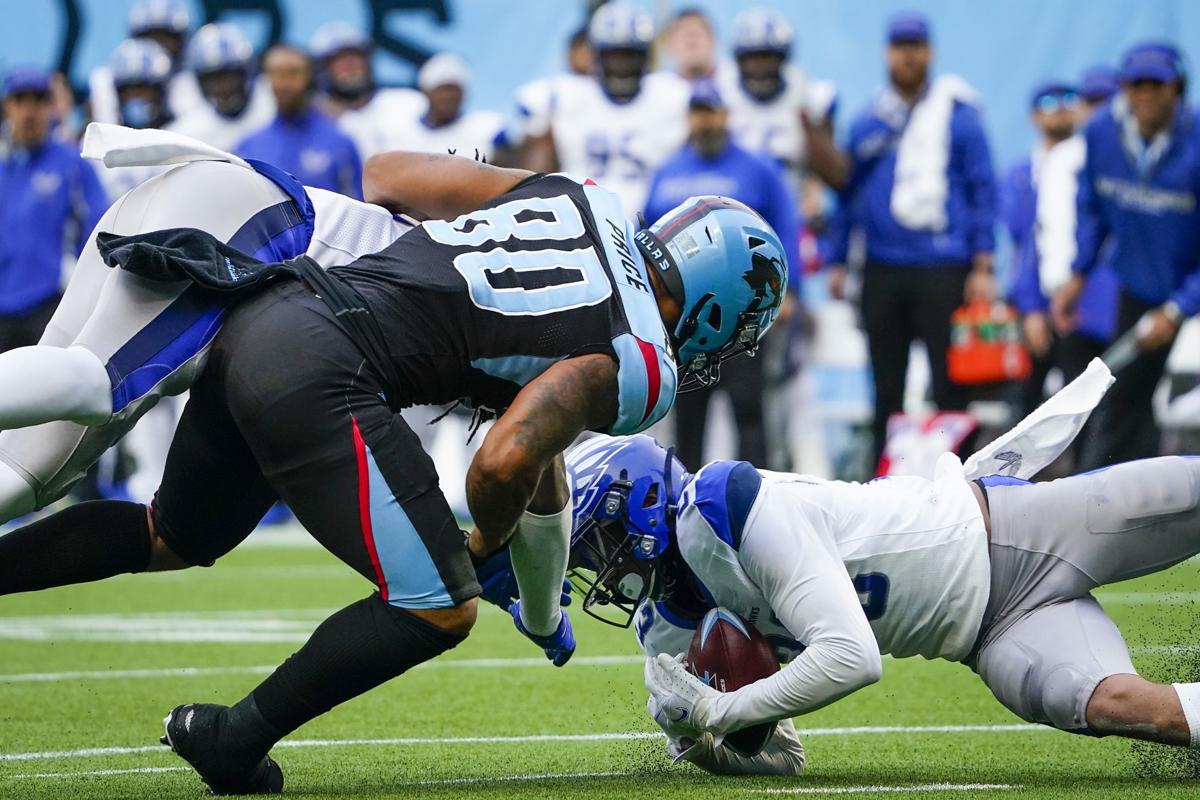 Coincidentally, I followed a draft trend that the Redskins had followed in the 2017 and 2018 drafts by going with a safety in the fourth round. Both Troy Apke and Montae Nicholson were both considered head-scratching picks at the time since their draft grades were much lower than than the fourth round. Still, while Apke still has yet to develop beyond just being a speed demon, Nicholson was an intriguing pickup on Day 3. He's of course no longer around, but he had a unique skillset and had some promising showings.
I think going with Kenny Robinson here is more aligned with the Nicholson pick than Apke. Robinson might be one of the most intriguing prospects in this entire draft in that he's the only player in this draft with any professional experience. After an academic scandal effectively ended his time at West Virginia, Robinson went the XFL route and became the first (and only) player to sign with the league that still had college eligibility. That is certainly a unique way to open up a resume.
And the thing is, Robinson played pretty well in the XFL, showcasing the ballhawking skills he already displayed at West Virginia by picking off two of the eight passes thrown his way in five games, one of which showed the kind of anticipation and intelligence you want out of a safety.
I like his value here in the fourth, he's not an exceptional tackler at all, but as a cover safety, he displays the range, fluidity and smarts you want out of a rookie. I was impressed not only by what he did in his professional career, but in his college career as well. In 23 games, he finished his collegiate career with seven interceptions and seven passes defended. Probably one of my favorite highlights of his was this interception of Kyler Murray:
I think taking a chance on Robinson this late in the draft is a great opportunity to find some much-needed competition for Sean Davis at the free safety position.
Fifth Round (162nd overall): OT Alex Taylor, South Carolina State
The Redskins still don't really have a clear-cut answer at either the left tackle or left guard positions due to the Trent Williams fiasco as well as Ereck Flowers' departure, but they have made it a priority to fill the trenches with depth pieces to both spark competition and prepare for any possible injury concerns. I think this move is another step in that direction although after watching some of Alex Taylor's tape, I think there is a very real chance that this guy has starting potential down the line.
A 6-foot-8 behemoth, Taylor has the athleticism and basketball background that easily makes me feel like he's worthy of the "dancing bear" label. He moves really well for his size, and packs quite the punch off the line. He's definitely at his best in run-protection, showing the push and drive necessary to bulldoze defenders out of the way, but he's still very much a work in progress in pass-protection. He's still not super smooth on the backpedal and while he does a pretty good job using his hands to combat any pass-rushing attack, I'd like to see him further develop that skillset.
Taylor is a legit sleeper prospect in the fifth round, and though I highly doubt we'd be seeing him much this year, he showcases plenty of raw, moldable talent that tells me that he is very capable of being a solid starting tackle in this league.
Seventh Round (216th overall): CB A.J. Green, Oklahoma State
The seventh round should be all about taking flyers on guys who you think fits the culture of the team, but may lack some crucial physical attributes or the production you want out of a player. Rarely do you find many accomplished collegiate players that fall all the way down to the seventh, yet here we are with A.J. Green, a three-time starter who was voted a team captain that left school with two Second-Team All-Big 12 accolades and a was also named a Jim Thorpe Award semifinalist this past season.
Green, to me, should fall somewhere around the fifth round, but if he's available in the seventh, I see no reason to pass him up. Perhaps it's his lack of speed (ran a 4.62 40-time at the combine) that's dropped him this low, or maybe his grabby tendencies, but I see him as a physically imposing, tough cornerback who's proven to also be a willing tackler in run support. I watch plays like the one below against Oklahoma wide receiver CeeDee Lamb and I see a guy that perfectly fits the culture that Ron Rivera is trying to implement here.
It certainly helps that he has 39 starts over the last three seasons, but I just think that Green will add a positive presence to the locker room as well. He doesn't look like he's in line for a starting position anytime soon, but he has strong potential for a gunner role on special teams. I think he'd be the kind of player that would find a way onto the field and would leave everything out there. If you can get any sort of production out of guys this late in the draft, then that to me is a win, but I think Green would be able to surpass that expectation even more.
Seventh Round (229th overall): TE Charlie Taumoepeau, Portland State
I understand I already covered this need with Trautman in the third round, but just to really hammer home the point that the position is an absolute mess currently, I decided to go with another small-school tight end for good measure. Honestly, Charlie Taumoepeau is a pretty unique prospect. He looks a bit like Jimmy Graham in his receiving ability, but where the comparison falls apart is how willing a blocker Taumoepeau is compared to Graham. He's seriously a pretty solid blocker for his size, but of course his receiving ability is probably what gets him drafted.
While he wasn't super productive this season at Portland State, the tape shows me a guy with pretty unique athletic ability that could possibly be a better pro than a college player, and at the very least, he provides an extra helping of competition at the position for us to better analyze who deserves to be out there on Sunday and who deserves to ride the bench.